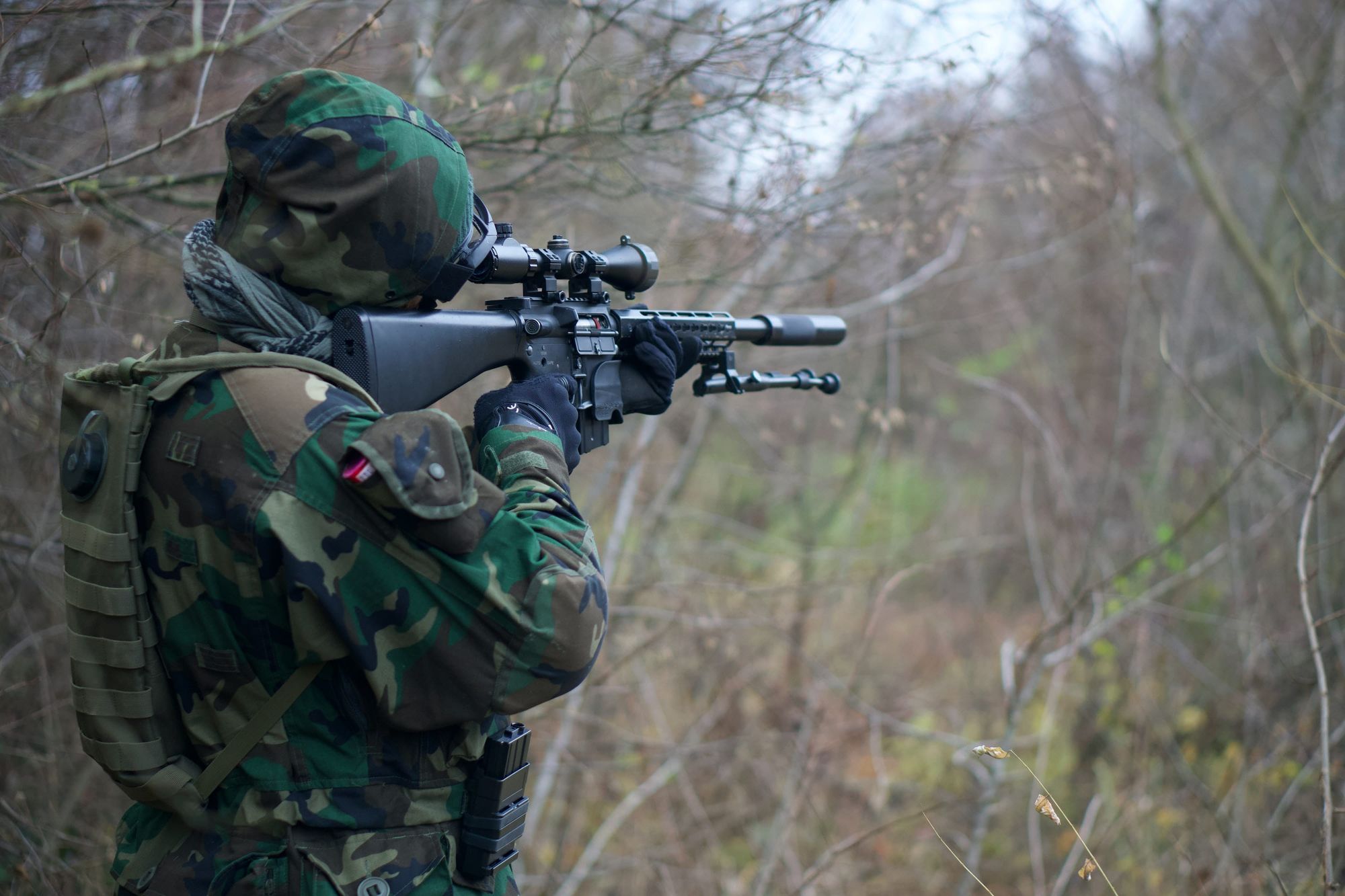 Table of Contents
Introduction.
......The dangers to your eyes.
......It doesn't have to be that way.
......John would not have lost his eye if he was wearing one of these.
Comparisions And Features Inspected.
......Frame Material.
......Lens.
......Transition versus Interchangeable Lens.
......Prescription Capable.
......Temple Arms.
......Hinges.
The Decision.
The Comparison of Features Between Brands.
Details of each Brand.
......GOLD WINNER - Outlaw Fugitive TAC.
......SILVER WINNER - GatorZ Magnum.
......BRONZE WINNER - Roka AT-1x.
......STNGR Ridge Tactical.
......Oakley Ballistic M Frame.
......Oakley Det Cord.
......Revision Military Sawfly.
......Wiley X Slay.
......ESS Eyewear Crossbow.
......Swiss Eye Raptor.
Conclusion.
Introduction.
John was turkey hunting with a buddy last spring when the accident happened. As he quickly rounded a tree wearing camouflage from head to toe he heard the shotgun blast. "The pellet slammed into the outside corner of my left eye." he said. "If it had been closer to the middle, I wouldn't be standing here." His life was spared, but despite the rush to the hospital his left eye couldn't be saved.
The dangers to your eyes.
Your eyes are one of the most critical parts of your body. You lose them, then life gets a lot harder. There are so many hazards that could damage them. UV rays can cause cataracts and cancer. Flying objects such as chips, fragments, particles, sand and dirt could blind you permanently. Even if you are careful you can still get nailed. It could happen at work, home, during vacation, in the car and where ever you are. The risk is even greater for dangerous occupations such as law enforcement and police. And let us not forget extreme sports such as alpine skiing, hunting, shooting, motorcycle racing, jet skiing, skydiving, and the like.
A mother lost her eye at a baseball game. An incoming golf ball tore into a golfer's eye. A flying rock from a mower blinded a landscaper. Anything can happen anytime. It is a dangerous world. 800,000 eye injuries occur annually. 20,000 of them occur in the workplace. On top of that, UV radiation has immense effects on the eyes, causing many devastating diseases.
It doesn't have to be that way.

One of the best investments you can make in protection of your eyes is a special type of sunglasses. They can't be just any pair of sunglasses. In fact, sunglasses in general can easily break, endangering your eyes even more with lens fragments cutting into your eyes, blinding you. You instead need sunglasses that give you rock solid protection, shatterproof even to the point of extreme impact. You want maximum protection from all situations. The highest level of protection that can stand even against pellets from a shotgun blast is a level called BALLISTIC. Something that the military would wear.
To combat eye hazards in the most dangerous environments the United States Military has implemented a series of rigorous ballistic tests that safety glasses, sunglasses, and goggles worn by those in uniform have to pass. These are the best safety goggles available. The eye pieces that meet the very difficult tests are certified ANSI Z87.1. Sunglasses with this certification provide you the safest protection that money can buy. Military grade ballistic sunglasses, that can even withstand a bullet. Something that the SWAT would wear.
A Marine was stationed at a special operations training camp in NC. He was wearing his GatorZ glasses and conducting an explosive breach operation. Suddenly fragments from a door ricocheted around the protective barrier and struck his GatorZ glasses with devastating force. The sunglasses were damaged but thankfully his eyes were saved and also his job.
John would not have lost his eye if he was wearing one of these.

These sunglasses offer the best eye protection for shooting and are the best eye protection sunglasses on the market. Consequently, they are also the best sports sunglasses. Nothing else comes even close. On our search for these types of sunglasses, we looked at the durability, quality, comfort, features, and even appearance that would fit for all occasions of lifestyle with the highest protection. After extensive research and vetting, we have cut the list to these 10 extraordinary sunglasses below. All of them are excellent pieces. But there were a few of them that stood out from the pack.
Comparisions And Features Inspected.

Frame Material.
The titanium core wires material in the Roka AT-1x was a good feature. But the standout feature was the aluminum construction on frames for Outlaw and GatorZ. In general, frames made from aluminum are more durable, corrosion-resistant, flexible and strong. High-end frames frequently lean to this material. The highest quality aluminum you can find is military grade.
Lens.
All brands we covered had solid UV protection. Polarization technology among the brands that had it was outstanding, providing sharp vision and clarity. Both regular and transition lenses worked well. Outlaw's lenses are 0.2 mm thicker than its competitors for added strength. GatorZ excellent TRU-RAY technology polarization, was infused into the lens, provided optimal clarity. STNGR's RAZR polarized lens technology gave a crisp, clear view. Wiley had complaints that its lens were not polarized. Roka had some visual distortion around the edges based on the curves.
Transition versus Interchangeable Lens.
Some brands offered interchangeable lenses including Oakley which outperformed with its one-hand lens change capability. Others including Outlaw and GatorZ had transition that will quickly turn dark in sunlight and become clear again when indoors.
Prescription Capable.
Roka and Revision have good prescription programs but Outlaw's prescription technology was far superior and offers vision Rx on single, progressive, and bi-focal. Furthermore, Outlaw had many more coating types available than the competition, including some extra hard coatings to make it even more scratch resistance. And they have a 2-year remake warranty if the lens ever scratch, a generous option that the competition does not have. GatorZ prescription technology is also excellent but currently offers Single vision Rx only.
Temple Arms.
Several brands of temple arms were compatible and fitted well with hats and helmets, with the exception of STNGR and Revision.
Hinges.
Noticeable features include STNGR's 110° system. GatorZ has an outstanding stainless dual-sided 5 barrel setup with a classic 4-rivet system. Outlaw matched that with dual surface mounted spring hinges that replaced their previous rivets system. Swiss Eye's adjustable system was not firm enough which could allow frame to fall off.
The Decision.
At the end it was really a battle between the Outlaw and GatorZ. Both of them had features and quality that were superior. Their aluminum military grade frames made a big difference. Between the two, the Outlaw equaled the GatorZ in practically every department and outperformed with its cutting edge technology in the prescription area. Even after all that, the Outlaw average price was half the cost of a GatorZ, which is incredibly cheap when looking at the outstanding quality offered. We are not sure how long this price difference will last. Perhaps they are trying to gain market share. It is our impression that the Outlaw Fugitive TAC wins the gold medal for 2021. GatorZ Magnum came in a very close second, taking the silver medal while Roka AT-1x surprisingly grabbed the bronze medal.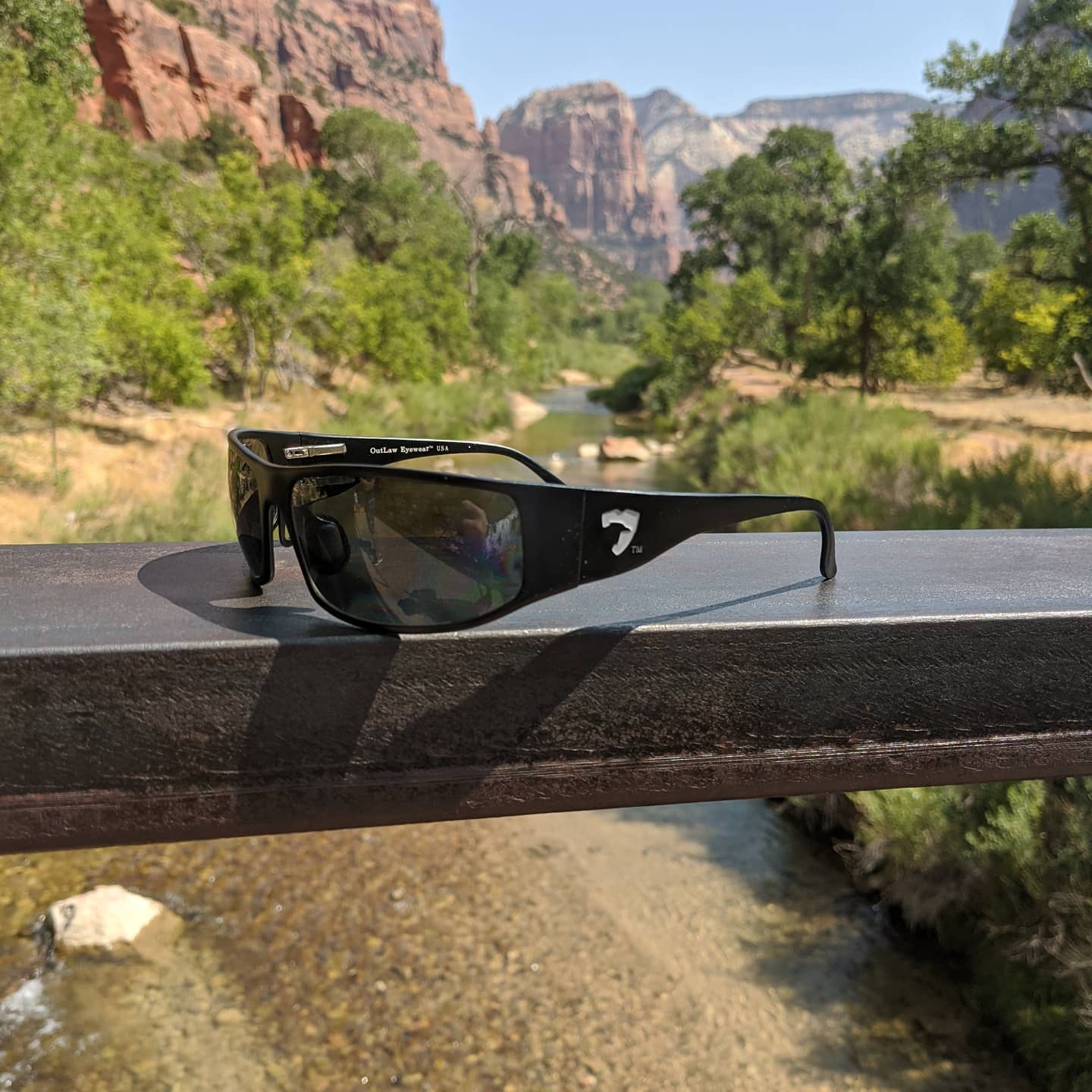 The Comparison of Features Between Brands.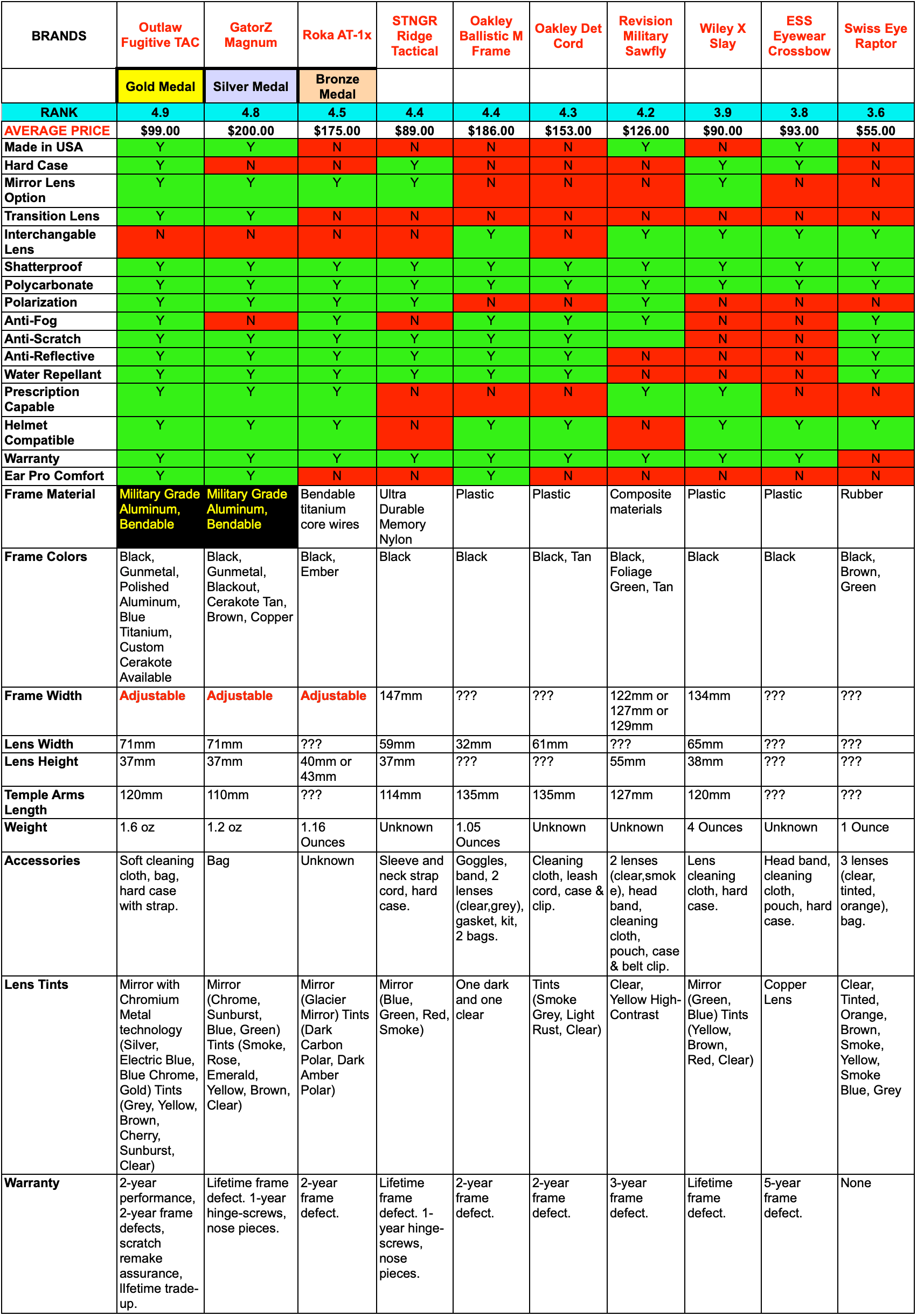 Details of each Brand.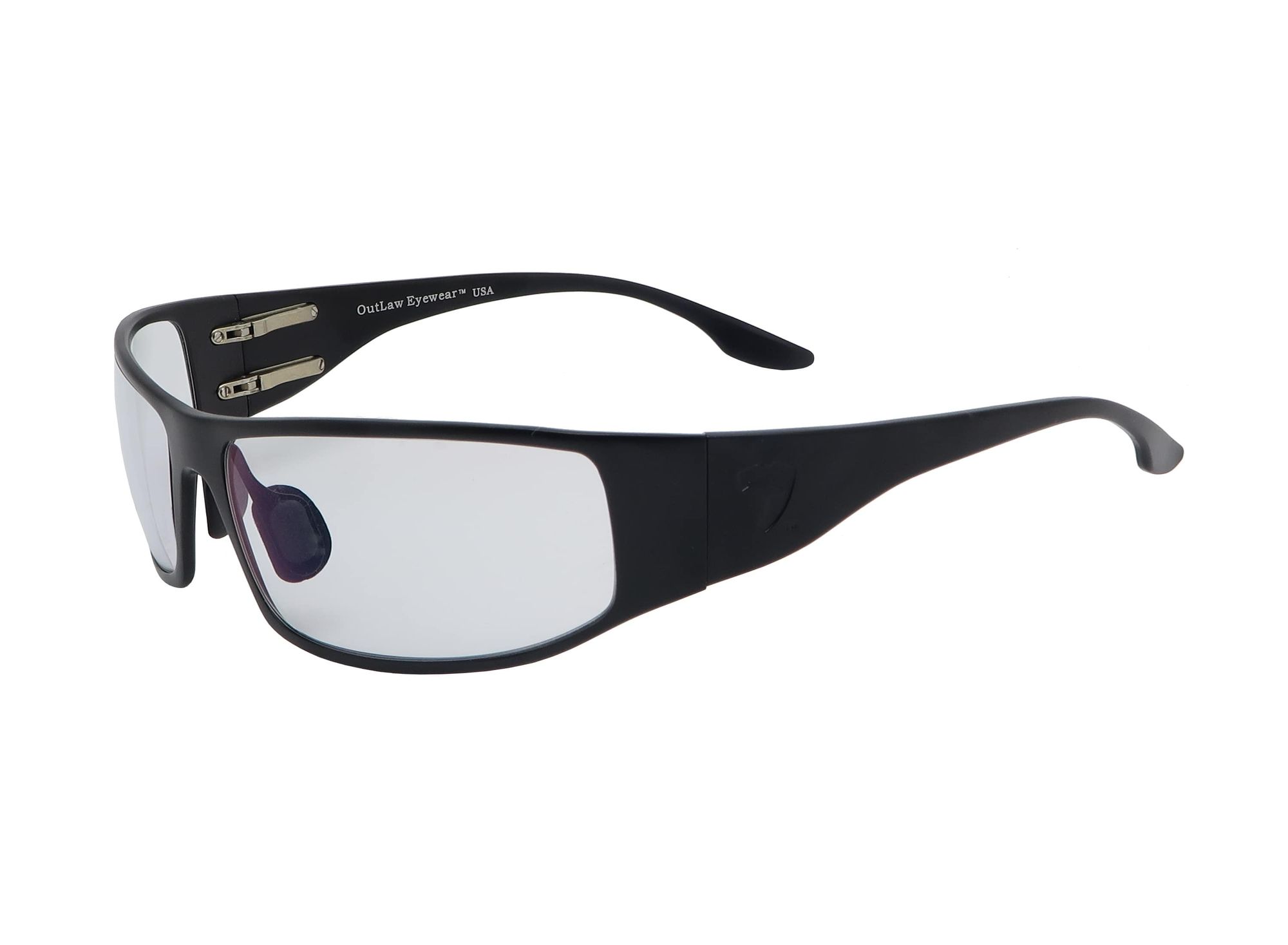 Pros

Solid aluminum frames. Best prescription capable lenses program in the market. Built like a tank. High quality. Adjustable and made in USA. Good looking sleek appearance and comfortable fit. Lens clarity view is crystal clear. Transition lenses quickly darken in sunlight, freeing you from the need to change lenses. Best customer service in the business. Fits the face like a glove. Lots of positive reviews saying these are bad-ass shades. Blocks the wind from coming in very well. Surprisingly better price points considering the extremely high quality. Sharpest vision sweeping even the outer sides of the lenses. They have a special lab setup that uses the necessary wrap compensation lens fabrication process to give precise edge to edge vision correction with no distortion while the other brands give you a column of vision correction in front of your pupils only. Extremely protective of wind, dust, and the sun. Slim temples arms fit under a helmet comfortably. Blocks light and debris coming from the side very well. Excellent stability and stays on well even during rough movements such as when you are riding in a helicopter, skydiving, alpine skiing, or motorcycle racing.
Cons

Transition lenses could be darken a tad more in direct light. Switchable lenses are not available but not needed due to transition capability.
Link to watch - Video of the Gold Winner

Link to BUY - Outlaw Fugitive TAC ,  (Customer service available if needed)

(Back to Table of Contents)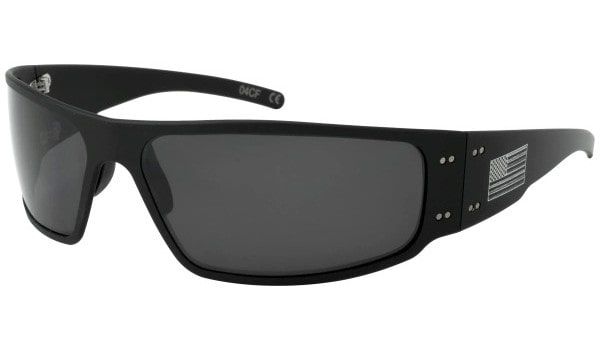 Pros

Solid aluminum frames. Damn good shades. Stylish, low profile, highly functional. Extremely well made. Built like a tank. Solid construction. Looks good. Shipping was fast. Reduces the pressure above ears while wearing them with Peltors. Shades stick to the face well. The frames stays snug. Easy to adjust. Nothing sticks to the lenses not even wet grass. Adjustable and made in USA. Crystal clear optics. No hassle with outstanding customer service. Blocks light and debris coming from the side very well.
Cons

Limited to Single Vision Rx Only. Progressive and bi-focal not available. A little bit more expensive than the Outlaw for identical quality. Could slide down the nose unless tightened correctly. Lens can scratch. Frames can get mighty hot to the touch when left in a car even when stored in the case and in the cars glove compartment. No hard case. Could slide down if on top of head. No slip resistant rubberized molding on the ear pieces to help keep them in place. Must take care to bend and adjust the temple arm tips correctly in a way to not scratch the inside of the lenses.

Link to BUY - GatorZ Magnum

(Back to Table of Contents)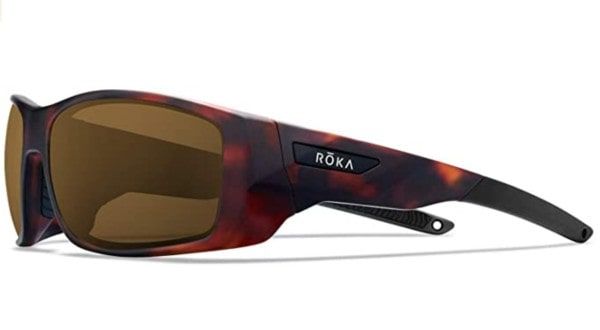 Pros

Does not fall off easily. No-slip GEKO pads. Very lightweight. ROKA C3i OPTICS has very strong levels of optical protection. Bendable titanium core wires that offer ultralight stability and an adjustable, precision fit.
Cons

Some visual distortion around the edges based on the curves.

Link to BUY - Roka AT-1x

(Back to Table of Contents)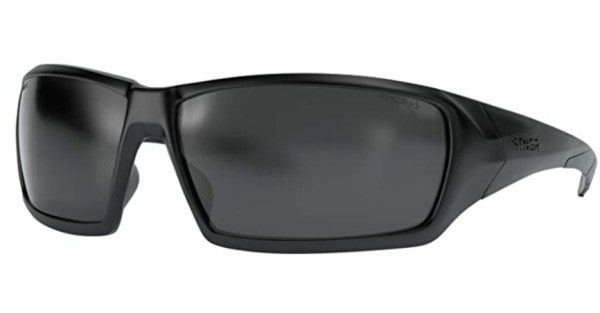 Pros

Durable and rugged. Good customer service. Quick delivery. Clear view with color. Looks good. Comfortable and stylish. Fits well for large faces. Lenses have good dark tint.
Cons

Tendency for glasses to 'seal' to face, which can cause fogging on the inside. A little bit too close to eye, eyelashes can touch the lens. A little bit large on small faces. Thick temple arms doesn't work well with hats which can push down on the temple arms.

Link to BUY - STNGR Ridge Tactical

(Back to Table of Contents)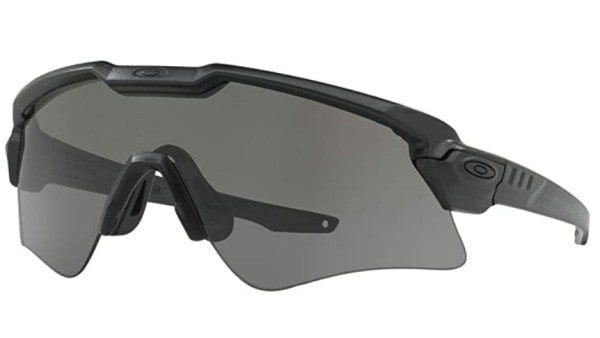 Pros

Advanced anti-fog coating. Full compatibility with helmet-mounted night vision devices. This special metal oxide coating allows Oakley to fine-tune lenses of any color. Ease of changing lenses even with one hand. Head strap is useful. Gasket keeps bugs and dust out. The 3.0 version has rubber socks over the ears that are more comfortable using ear protection.
Cons

Rather expensive based on the quality. Complaints on orders issues where contents of the order do not match what the details list is. Lenses seem to fog up frequently. Design could be improved for better venting. A little big on the face. Frames appear not to be as durable as previous versions. Not polarized.

Link to BUY - Oakley Ballistic M Frame

(Back to Table of Contents)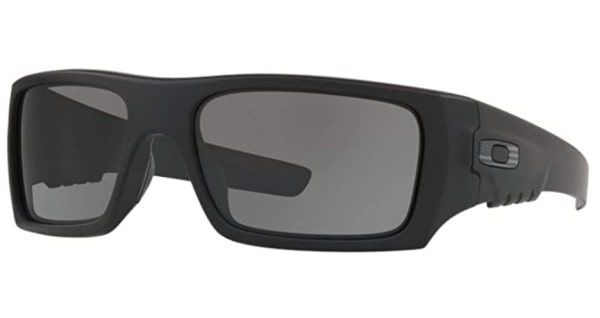 Pros

Comfortable. Rugged and stylish. Good clarity. Sturdy and stays on your face well. No slippage. Fast shipping.
Cons

Lenses scratch easily. Not dark enough. Pricey for the features offered. Not polarized. Could be a tad bit darker. Outside corners of the eyes could have more protection.

Link to BUY - Oakley Det Cord

(Back to Table of Contents)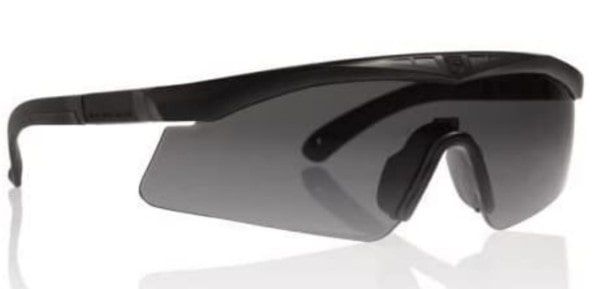 Pros

Exceeds ballistic standards. Tough. Ventilation good and don't fog easily, comfortable. Interchangeable lenses easy to swap. Reasonable price.
Cons

May tend to not stay secure on head unless you use the band. Very wide & made for big faces. Gap not close between cheeks and lenses, open space leaves eyes vulnerable. Sun protection not very good. Scratches easily. Prescription lens okay. Case is soft and would not protect the sunglasses completely. Temple arms thick and not work well with helmets.

Link to BUY - Revision Military Sawfly

(Back to Table of Contents)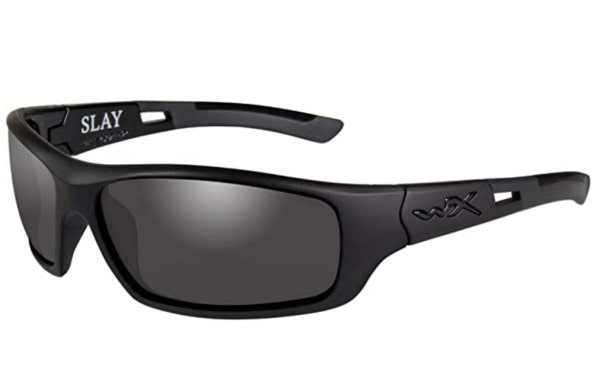 Pros

Quality is good. Fit real close/snug to your eye socket. Durable, fast shipping.
Cons

Lenses not dark enough. Multiple customer complaints that the lenses were not polarized as expected. Tend to fog up. Not the best riding glasses. Too much air gets by them into your eyes. Scratches easily. A little bit large to small faces. No nose bridge pads.

Link to BUY - Wiley X Slay

(Back to Table of Contents)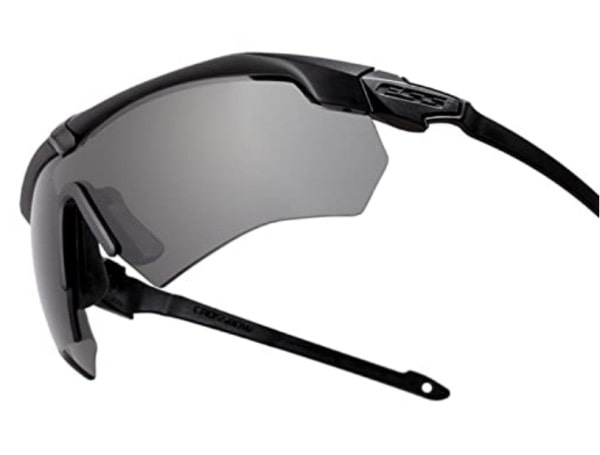 Pros

Temple arms are thin and comfortable under helmet or ear muffs. Lens give clear view. Interchangeable lenses that are easy to switch.
Cons

Falls off easily, without retaining band. Temple arms a little narrow and tight. Nose piece breaks easily.

Link to BUY - ESS Eyewear Crossbow

(Back to Table of Contents)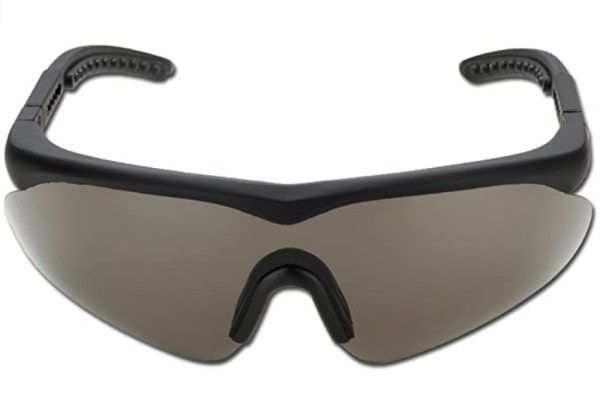 Pros

Looks relatively good. Good resistance against scratches. Tint is good strength. You can change both the temples arms and the glasses. Temples easily adjust. Extremely comfortable. Fast delivery.
Cons

Not as durable as the competition. Does not dim sunlight lenses enough. Easily fogs. Clip adapter sits badly. Changing the lenses is a real challenge. Two-part nose bridge often falls apart. Big on the face. Gap between the nose bridge and the glasses too big. Fine sunglasses but not superior. Adjustable hinges are not firm enough. Needs a band to prevent falling off. Soft carry case.

Link to BUY - Swiss Eye Raptor

(Back to Table of Contents)
Conclusion.
I personally contacted a prescription expert at Outlaw Eyewear and bought a piece for myself, prescription and all. As we all know, their customer service is top notch and they paid careful attention to my needs and interests. I went on and chose a nice black frame with Electric Blue Mirror coating. Received it in the mail and loved it. The view range and clarity was crystal clear, even from the sides. To top it off, it was an excellent fit under my hats too. I could not have been more pleased. They really are quality built like a tank. You won't be disappointed.

(Back to Table of Contents)