Let's cut to the chase here.

Gutters play an important part of our home's roof as keep the water from damaging the house structure by channeling the water flow down to the ground.  Whenever it rains, gutters collect water and help to direct it away from the home. If you want to protect your gutter, gutter guards are an ideal purchase as they will help keep any debris and leaves from clogging up your rain gutters or downspouts and reduce the maintenance of the gutters.

If you're new to purchasing a gutter guard and aren't quite sure where to start, we have your back. Here, we'll talk about the benefits of gutter guards and what you should look for when purchasing them. In the end, we've rounded up 6 of the best gutter guards on the market.


Why Use Gutter Guards?

Prevents from blocked water sitting inside the gutters that would attract rodents, birds, and insects.



Prevents from blocked water overflowing to gutter edges that would damage the house's exterior.



Prevents rust by eliminating leaves that would otherwise absorb moisture, leading gutters' rust and corrosion

.

Prevents water from overflowing to the sides of the house.  
Reduces ice blockage inside the gutter.

What To Look for When Buying Your Gutter Guards?

Look for guards with excellent water flow.



Material and durability.

They can be in the form of plastic, metal, wire mesh, foam, and brush.



Performance of letting the water in the gutters and the leaves, pine needles, and the like out.



Ease of installation, easy instructions.


There are generally five different types of gutter guards on the market.

The Good

Screen gutter guards - Screen gutter guards have small holes that filter water through and blocks most debris from entering.



Mesh gutter guards - Serves as a filter for water to flow through, blocking even small debris and preventing it from clogging gutters.



Foam gutter guards - Similar to the brush gutter guard, a foam gutter guard sits inside of the gutters and keeps debris lifted out while letting water flow through the sponge-like structure.

The Costly

Reverse curve gutter guards (also called surface tension guards) - They sit on top of the gutter instead of inside it with the edges having a slight curve so that water rolls into the gutter whiles debris fall off.  On top of everything, reverse curve systems can be expensive and will most likely have to be installed by a contractor, adding to the overall expense.

The Ugly

Brush gutter guards - leaves, sticks and pine needles end up sitting on top of the brush, meaning homeowners would still need to clean their gutters on a regular basis  We don't recommend the brush gutters at all, they do not reduce maintenance as the debris still get tangled up in the gutters, blocking the water.

  They work but are expensive and you would need contractors most likely to install them which is going to cost you money.  For this article we won't be covering the reverse curve gutters since it is not ideal for DIY.  We are looking for the best DIY gutters that money can buy.

Here is our list of the best we found.


BEST OVERALL

Gutterglove.  Stainless Steel Micro-Mesh, Raptor Gutter Guard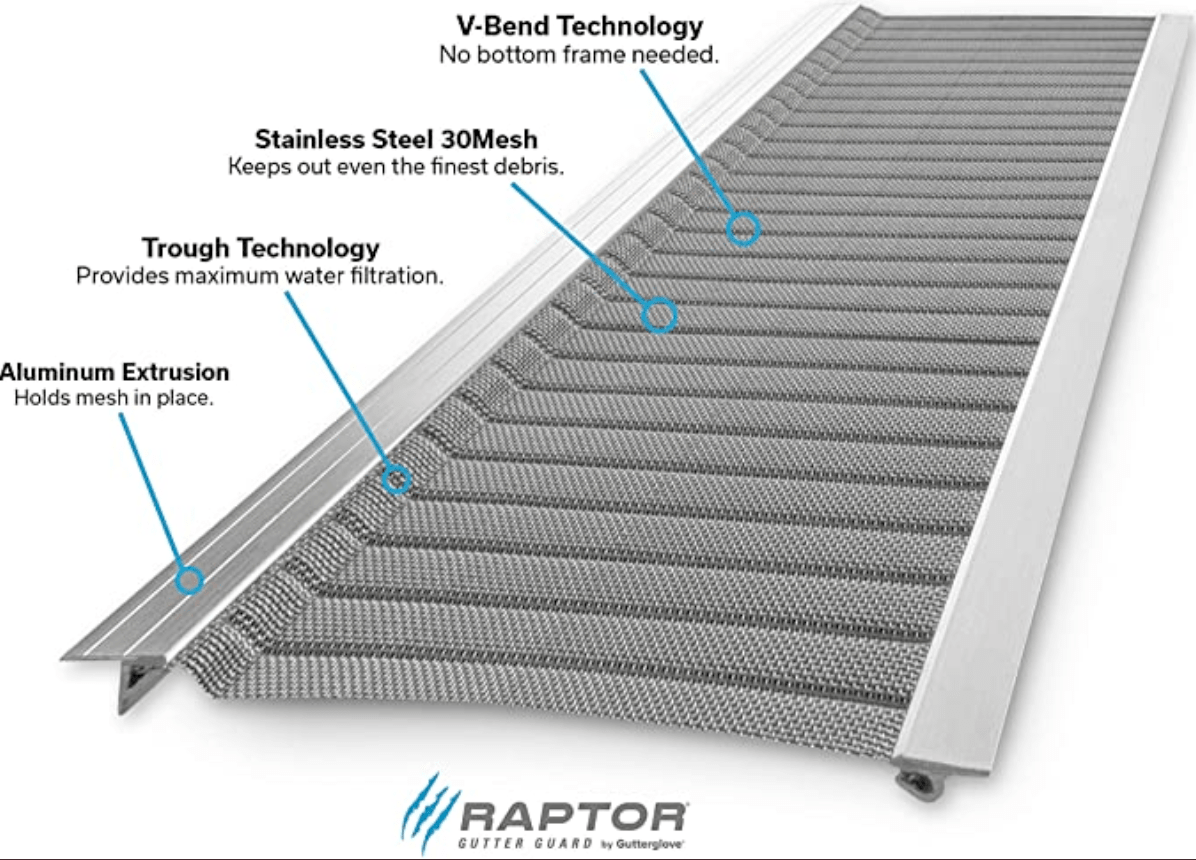 PROS

Never rusts or warps, durable and rugged.  World-class support,  Installation is not that difficult.  Self-tapping screws worked great.  During a rainfall and the rain was directed into the gutter just fine.  Blocks the pine needles very good.  Keeps the leaves out for sure.

CONS

Need neater way to join sections rather than just overlapping the screening, connecting pieces have issues.  Wire mesh at both ends of each section is crimped due to their cutting process.  This makes it sometimes not easy to overlap sections until you straighten and fold one end under.  There were occasions that the mesh separated from the frame.  The way the sections intersect/overlap is only a way for debris to pile up and open up the gap/hole over time.  The ends of the sections are not trimmed. Rather expensive.  Slip under the shingles.  Ice and snow clogs quickly.
CHEAPEST PER FOOT
GutterStuff.  Foam Gutter Filter Insert Guard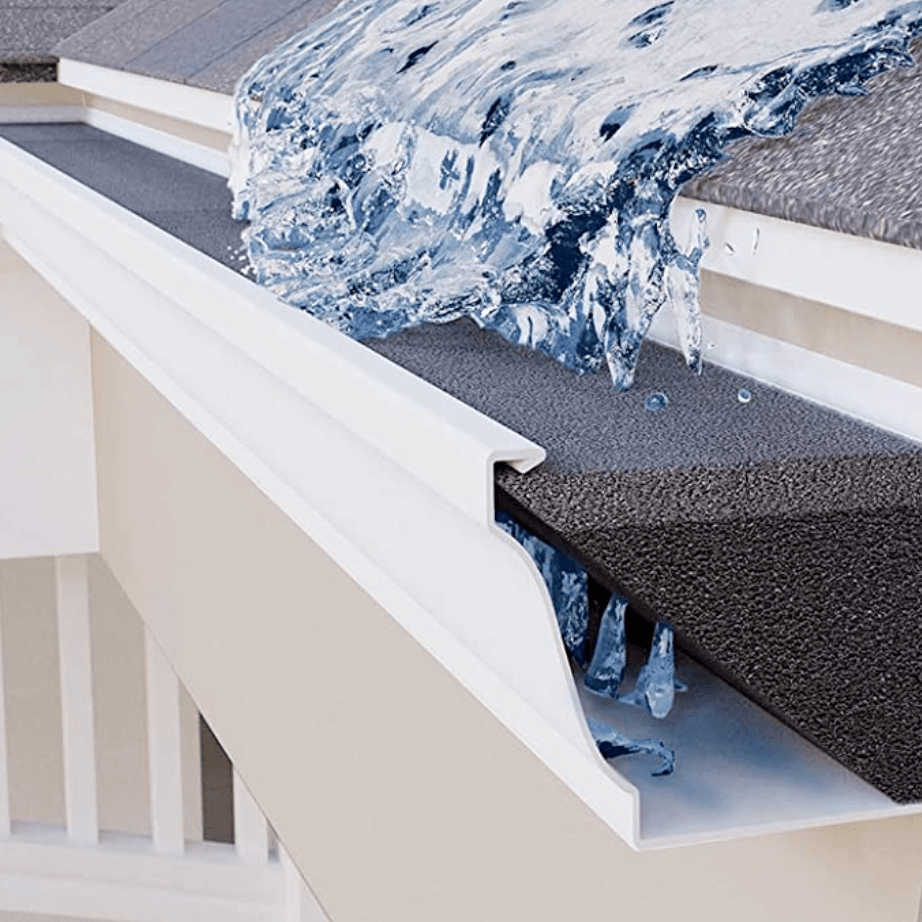 (Click Here To Buy Now)
PROS

Cheapest per foot.  Does keep leaves out of your gutters.  Can handle light and medium rains well.

CONS

Pollen stayed in the gutter.  Didn't handle heavy rainfall very well.  Sometimes the water wasn't able to soak through the product quick enough during heavy rain.  Warranty support was so so for some customers.  Seeds can grow inside the foam.  In hot weather foam can break down and can rot.   Also foam can get heavy with water and cause weight pressure on gutters.
MOST DURABLE
LeafTek.  Aluminum, Enamel Finish Gutter Guard Leaf Protection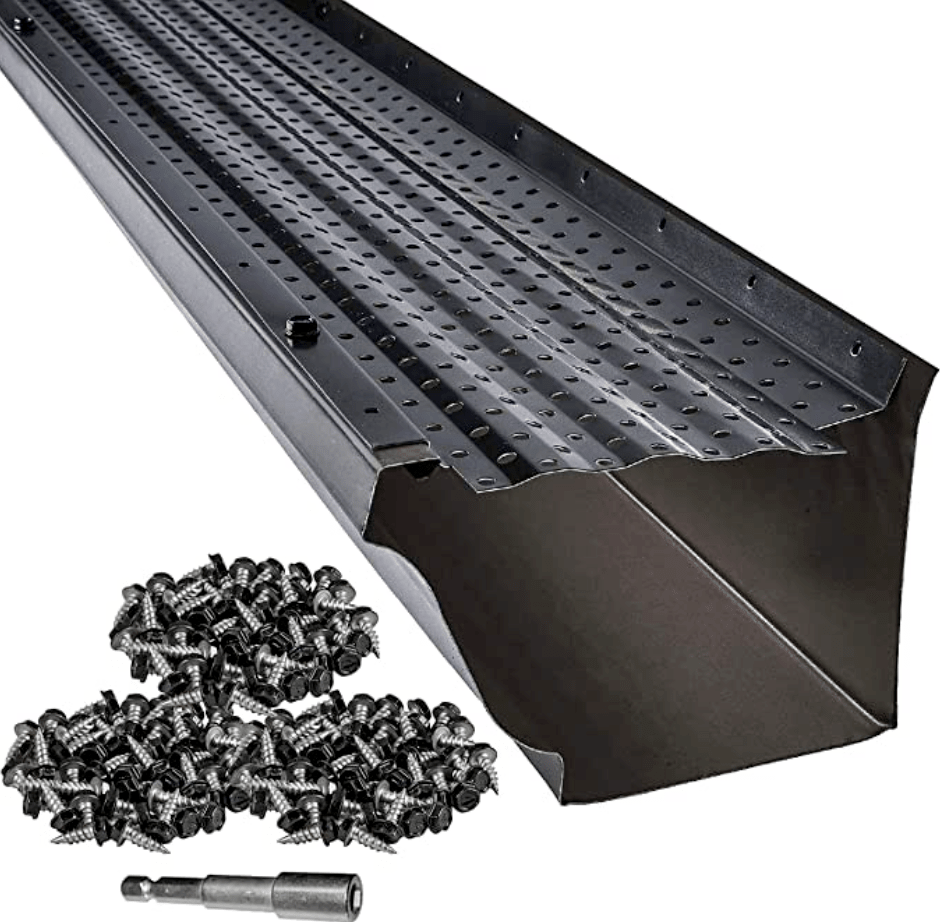 (Click Here To Buy Now)
PROS

Proprietary vented raised ridge air flow design.  Good support by phone or email 7 days a week.  Keeps the leaves out.  Aluminum is quality and rigid.  The product was not difficult to install.  No trimming or retrofitting necessary.  Not easily visible from the ground.  Nice magnetic screw tool.  Works well on pine trees and these seem to keep the needles out.  Handles the severe rainstorms flow well.  Good fit over gutters.  Made in the USA.

CONS

Package should have more screws.   Installation instruction was not very clear.
BEST LOOKING
Amerimax.  Durable Powder Coated Steel Lock-In Gutter Guard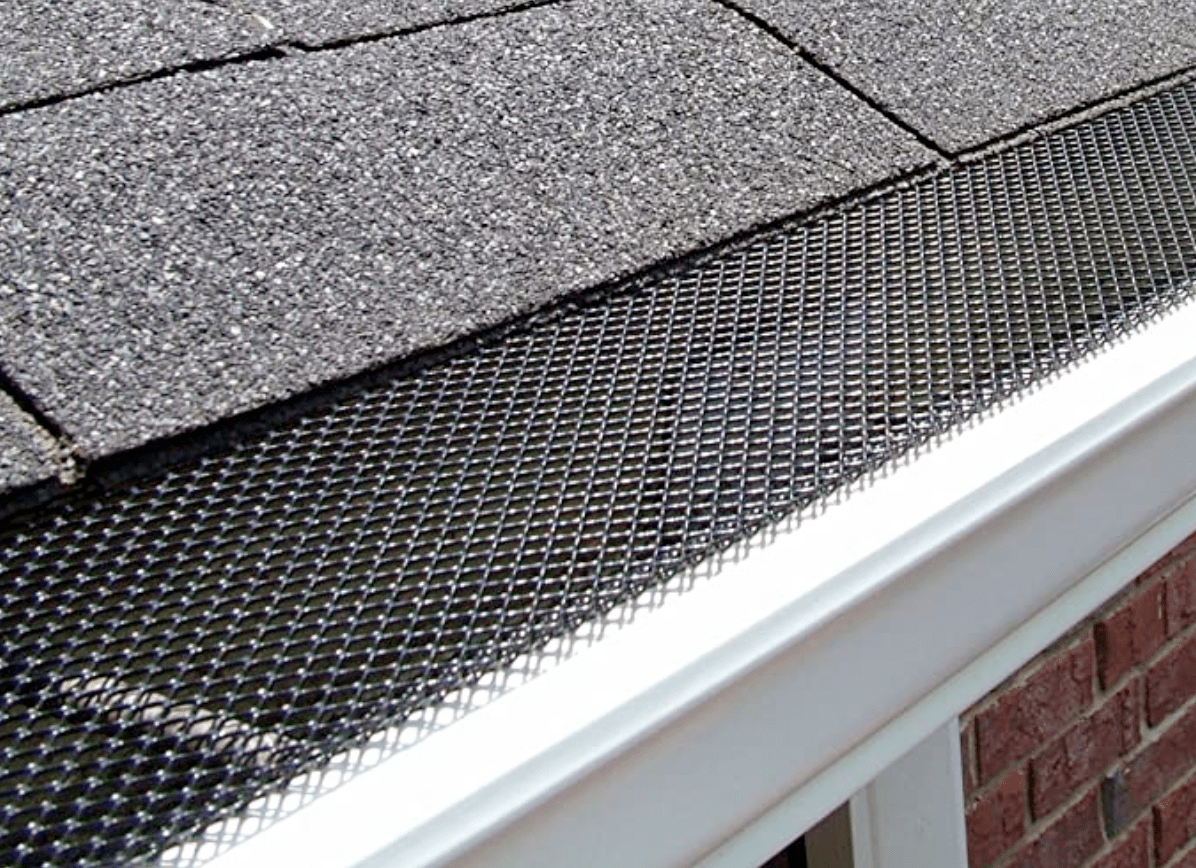 (Click Here To Buy Now)
PROS

Easy to install.   Cheap.  Sturdy metal.  Looks good.  Average performance blocking water and leaves.

CONS

Guards are much wider than installed gutters, so have to pry up a large amount of the shingle.  Very stiff and they are difficult to place these under the lip of the roof when it is new.  Sometimes need to bend to fit 5" gutters, making it easily visible from the ground.  Ice can collect on top some.  Holes can trap tree seeds, the pine needles and get stuck there.  Water sometimes tends to sheet off the mesh and not make it down into the gutter.  Does not fit for gutter below 5 inches.  Snow buildup can possibly clogs the guard and leads to ice cycles.  Not good for pine needles.  Problems with the guards falling inside the gutter.
LEAST NOTICEABLE
A-M Gutter Guard.  Aluminum Mill Finish Gutter Guard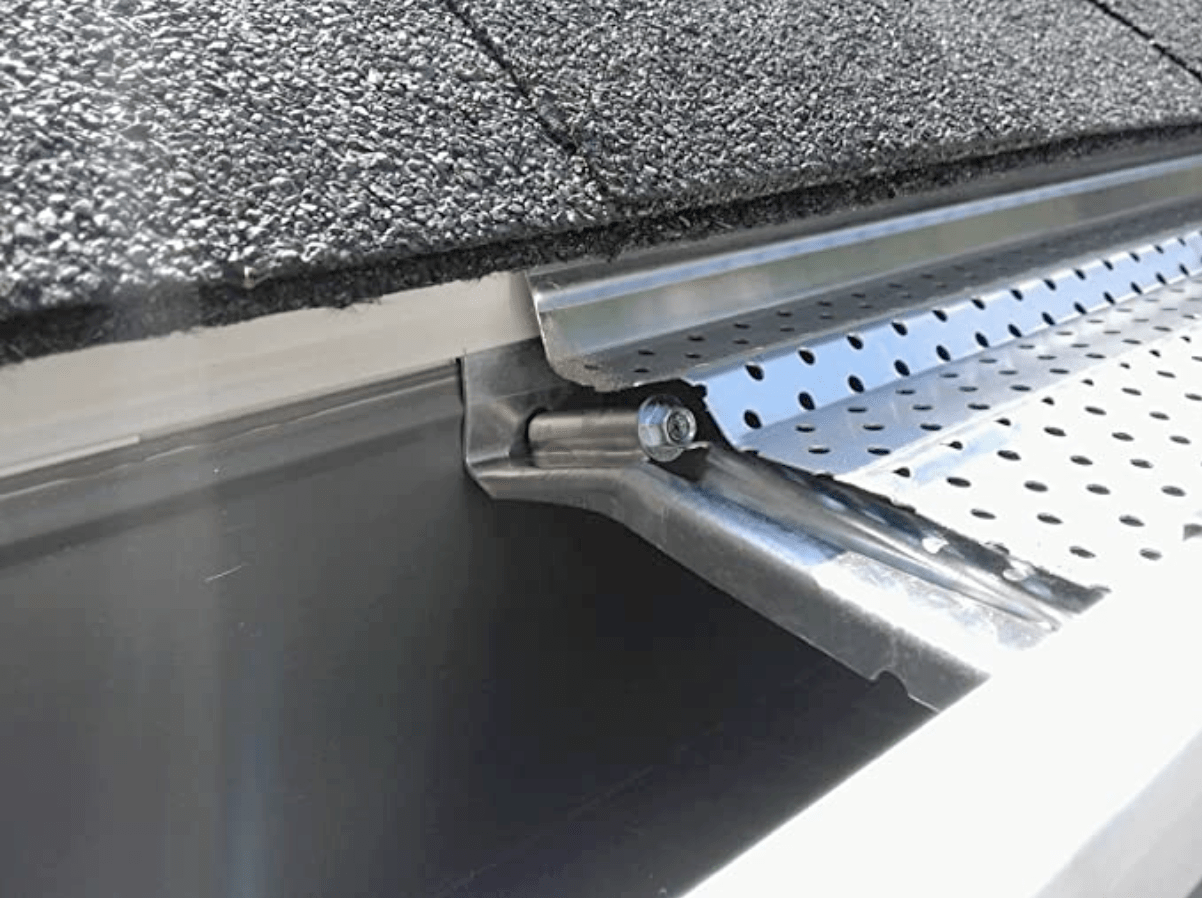 (Click Here To Buy Now)
PROS

100% Aluminum will not rust.  Very sturdy.  Can handle average rainfall. Virtually invisible from the ground.  Pretty easy to install.  Fits well. Handles cold weather and ice well.  Cuts easily.

CONS

Does not work well with spike and ferrule style mounted gutters.  Design has a valley for debris to collect which eventually can prevent water from passing through.  Leaves and pine needles collect on top.  Cannot handle heavy downpours well.  Pine needles get stuck in the holes.  Screws to secure are not stainless.  Some issues when heavy rainfall.  The "ridge" of the gutter guard stands above the end cap leaving a empty space that insect might use.  Requires gloves, the ends are very sharp.
HONORABLY MENTIONED
FlexxPoint.  Aluminum Gutter Cover System, Matte Residential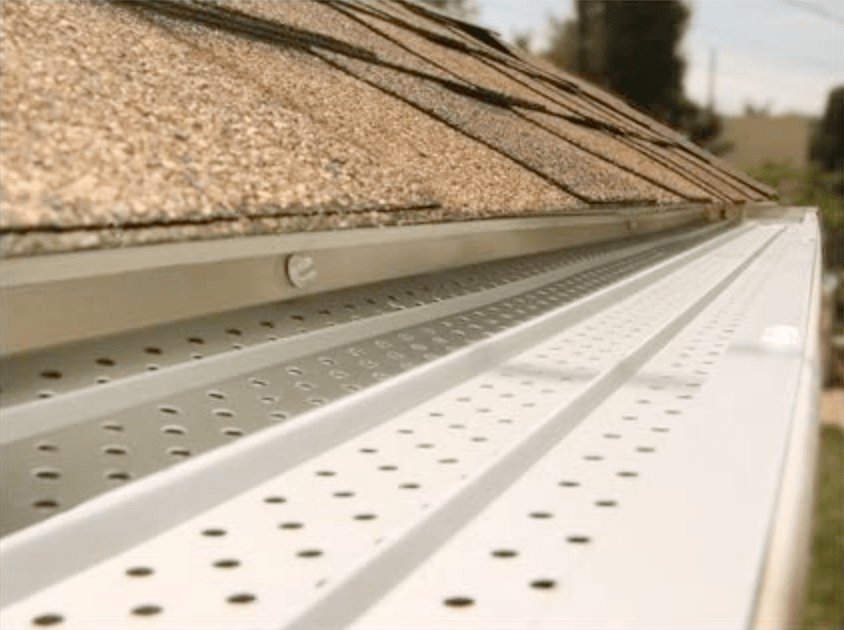 (Click Here To Buy Now)
PROS

Cannot easily be seen from the ground.  Easy to Install.  Includes stainless steel installation fasteners and stainless screws.  Looks good.  works well keeping needles and leaves out of the gutters.

CONS

In colder climates ice can collect.  Customer service so so.  Material is lighter and less durable than expected.   Guide not clear.  Rain sometimes pour off the edges, not going down the drains.  Holes little small.  Water can go over the edge during heavy rain some.  Debris does not fall off of the guard is average.  Tends to build up more ice than previous designs and the gutters do get heavy.  Steel screws can rust.  Time consuming to install. Some difficulty with self tapping screws.
FEATURE BREAKDOWN

CLICK ON A ROW FOR MORE DETAILS