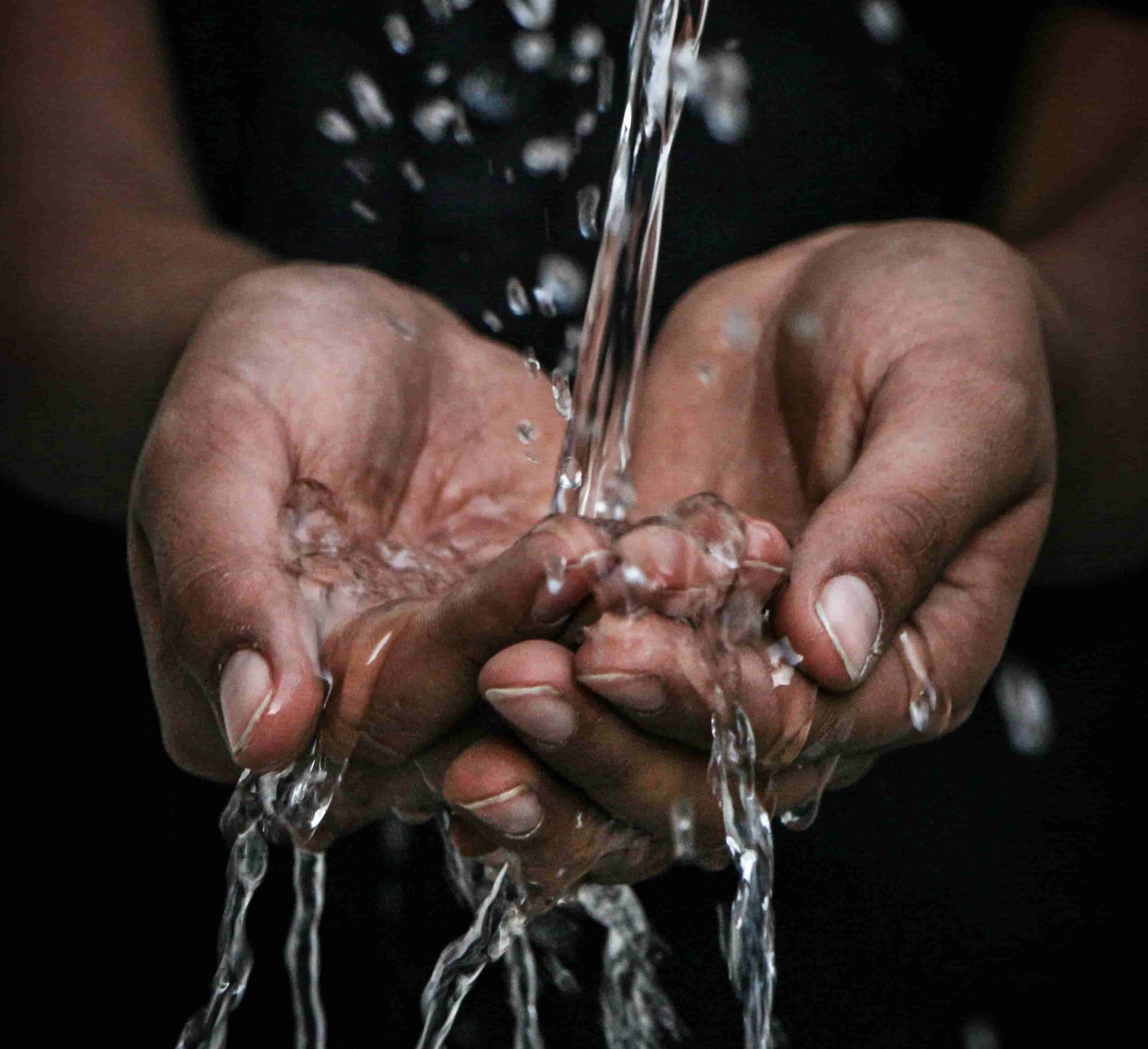 Introduction.
No one wants to drink water that is contaminated. And yet, keeping water completely clean and pure can be difficult.  To put it bluntly, water pollution kills and every year unsafe water sickens about 1 billion people.
Table of Contents
Introduction.
Just look at Flint.
.....Solution? Take matters into your own hands, my friend.
.....But what is the best water filter system should you use?
Water Purity.
Performance.
Cost.
The Winner, The Berkey.
The Sizes You Can Buy Now.
Conclusion.
Just look at Flint.
Discolored and highly polluted water was piped into Flint for 18 months and a health crisis was borne. Water pollution is not just in Flint. It is everywhere. USA Today found that 63 million Americans were exposed to unsafe drinking water from 2007 to 2017. Our rivers, reservoirs, lakes, and seas are drowning in chemicals, waste, plastic, and other pollutants. Potentially harmful contaminants—from arsenic to copper to lead—have been found in the tap water of every single state in the nation.
75% of U.S. water systems has cancer-causing chromium.
Up to 70% of U.S. water systems carry lyphosate.
Over 97% of U.S. water systems have chlorine in their water.
More than 5,000 U.S. water systems broke EPA rules on lead.
More than 72% of U.S. water systems have fluoride.
Solution? Take matters into your own hands, my friend.
By installing a water purification system at home, you can be sure that you always have access to clean drinking water. A good water purification system can remove a wide range of impurities such as pesticides, bacteria, viruses, odors, chlorine and heavy metals from the drinking water.
But what are the best water filters that you should use?
Naturally you would want the best water filtering. We cannot blame you. To answer that question we will look at the 18 top competing brands and focused on the resulting water purity, performance, and cost. And we will be cutting them down until the very best is still standing. Our first priority of course is water purity, so let us start with that.
Water Purity.
Did you know that there is a difference between water filter vs. water purifier? Both remove protozoa and bacteria but only water purifiers removes viruses also. And for sure we do not want viruses hovering around in our water, especially after the coronavirus pandemic and the scare of  Covid-19.

So water purifiers are the way to go. No question about that. Of the original 18, only 4 of them met this standard as water purifiers which are much safer and cleaner than water filters.  As a result, we have effectively removed from the running several known brands who didn't make the cut which included Brita, Aquasana, Propur, Aquatru, Katadyn, Pur, Aquagear, Soma, Zerowater, Doulton, Zen, Kangen, Nikken, and Clearly Filtered. Next up is performance.
14 down, 3 to go.

Performance.
Now it is a contest between the water purifiers who are still standing and they are in the below chart. We found that Berkey and Alexapure  far outperformed the other 2 in every department listed below. Alexapure topped some categories while the Berkey topped some others including virus. The highlighted green shows the best numbers in each category.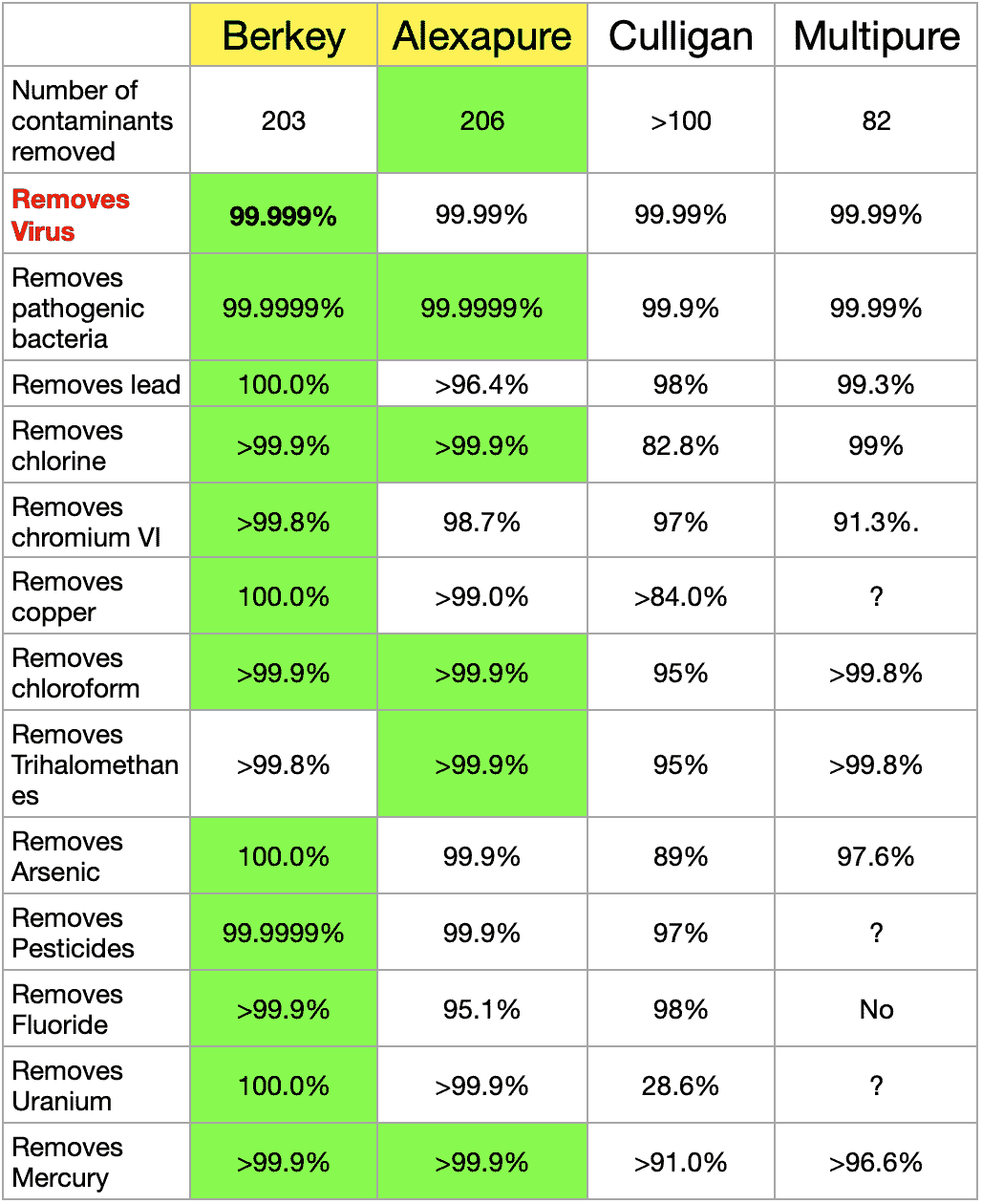 We will have to eliminate Culligan and Multipure as a result. So it is really a battle between the Berkey and Alexapure since they are so close. Next up is cost.
2 down, 1 to go.

Cost.
There are a lot of variables that affect the cost of producing pure clean water which includes the cost of the equipment and the changing of filters when needed. But after analysis, it became crystal clear who was the leader in this area.

The Winner, The Berkey.
The Berkey was so much cheaper to operate than the Alexapure. With the Berkey, it only costed you 2 cents to produce a gallon of pure clean water. The Alexapure was 4 times as expensive at 8 cents a gallon. In fact, if you wanted to compare the cost of all 18 competitors and buy just on the basis of cost, you would still end up with the Berkey as the king, at only 2 cents per gallon, while the entire competition ranges between 8 cents to 45 cents per gallon. And the outperformance of Berkey did not just stop there. The Berkey had a 100% Lifetime guarantee on the filters while the Alexapure had only a 1 year warranty. It is our impression that the Berkey is the very best water purifier on the market today.
The Sizes You Can Buy Now.
Depending on your need you can choose between 6 different sizes of Berkey water purifying systems below. You can click on each of the size names to get more information.

1-2 people:   Travel Berkey - 1.5 Gallons, 6 lbs
2-3 people:   Big Berkey - 2.25 Gallons, 7 lbs
3-4 people:   Berkey Light - 2.75 Gallons, 7 lbs
4-5 people:   Royal Berkey - 3.25 Gallons, 8 lbs
6-7 people:   Imperial Berkey - 4.5 Gallons, 10 lbs
8-9 people:   Crown Berkey - 6 Gallons, 12 lbs
Click on the picture below to view the deals. They even have kits for backpacking, hiking, and camping. Also learn how you can save by bundling and discounts.

Conclusion.
When looking for the best water filters for home and the best water filters countertop, the Berkey stands above them all. Consequently, we personally chose the Berkey to purify our water and have been happy with our decision ever since. You will not be disappointed.

P.S.  After you get your water filter system established, your water will taste much better and cleaner. Our coffee and other drinks now better flavor. Speaking of drinks, we have another article on the best protein drinks if you are interested. Check it out here - High Quality Protein Drinks, Which Is The Best?